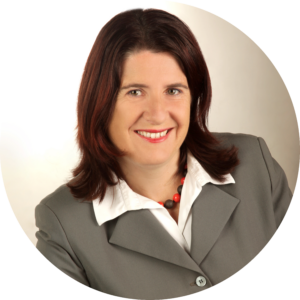 Biography in English:
Professor and Chair of the Institute of International Management at FH JOANNEUM University of Applied Sciences in Graz, Austria. Doris is also a certified mediator.
In her role as Chair of the Institute of International Management Doris is, among many other duties, responsible for student counselling and quality in education.
Doris has a JD of Graz University and a Master of Laws Degree of the European University Institute in Florence, Italy. Her teaching and research focuses on International Business Law, European Union Law and University Management.
She was elected to the Board of the European Network of Ombuds in Higher Education in June 2019.
Biography in native language:
FH-Professorin und Studiengangsleiterin an der FH JOANNEUM in Graz, Österreich sowie Mediatorin.
In ihrer Eigenschaft als Studiengangsleiterin ist Doris Kiendl, neben mehreren anderen Angelegenheiten, zuständig für die Beratung von Studierenden und Qualität in der Lehre.
Doris Kiendl hat ihr Doktorat der Rechtswissenschaften an der Universität Graz erworben und einen LLM-Abschluss am Europäischen Hochschulinstitut in Florenz.
Ihre Lehr- und Forschungsschwerpunkte liegen in den Bereichen Internationales Wirtschaftsrecht, Europarecht und Hochschulmanagement. Doris Kiendl wurde im Juni 2019 in das Board der ENOHE gewählt.